A long-lasting sweetness guaranteed
to keep you chewing and chewing

Delicious and Juicy Fruit Chews
Mamba Fruit Chews are a delicious fruity treat in four juicy flavors: Strawberry, Raspberry, Lemon and Orange, as well as tangy Sour Lemon, Sour Raspberry, Sour Strawberry, and Sour Orange. Mamba Fruit Chews have a long-lasting sweetness guaranteed to keep you chewing and chewing! Now introducing new Mamba Tropics, available in four tropical flavors: Peach-Passionfruit, Pineapple-Coconut, Mango-Orange, and Apple-Kiwi!
60 years of Mamba – the story of an eternally young brand
2017
Mamba Tropics is introduced
In 2017, Mamba Tropics was launched in the U.S. market to cater to the growing demand for new tropical fruit flavors.
2007
Mamba Sour hits the U.S.!
Even though the Mamba success story has lasted for over 60 years, the brand has always remained fresh. It keeps on reinventing itself in response to the ever changing consumer taste preferences. Mamba Sour, a range consisting of sour varieties, was introduced in 2007.
1986
Mamba Discovers the Big Wide World
For many years, Mamba fruit chews have been popular throughout the world. Mamba was successfully launched in the US market in 1986. In the 1990s, it was introduced in other major sales markets such as Poland and Russia. In these countries, Mamba is one of the best-known and most popular brands of fruit chews.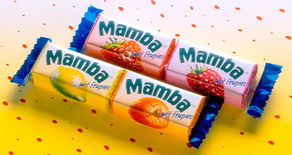 1953
Mamba Launches in the German Market
Mamba fruit chews launch in Germany in 1953. The flavors and affordable price make the 6-piece packs of Mamba an immediate hit.