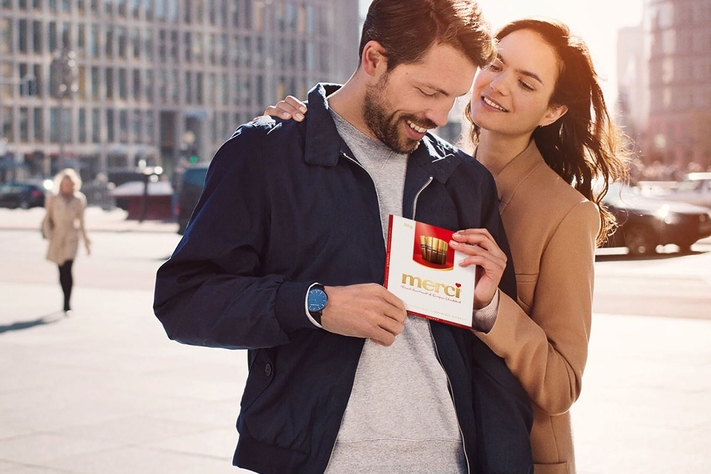 Thank you means merci.
merci offers a thoughtful collection of rich, European chocolates made from the finest ingredients available. Known as Europe's famous gift-giving chocolate, merci offers something for everyone and is sure to be warmly received.

Say thank you with merci, the thoughtful collection of individually wrapped European chocolates.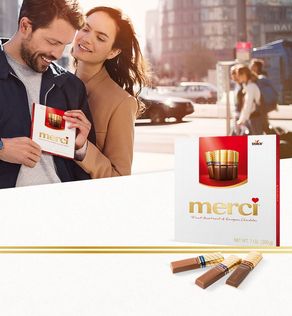 Thank you means merci. Today, in more than 90 countries all over the world, people say thank you with merci.
2021
Chocolate Mousse
Four temptingly filled mousse types wrapped in delicate chocolate. Not only the heart of mousse fans beat faster with the newest member of the merci Finest Selection family: merci Chocolate Mousse - the latest chocolate variation is a must for every chocolate connoisseur.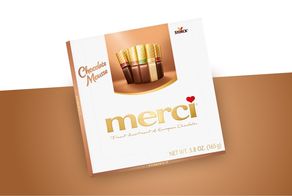 2002
merci enters the US market
For the first time, American consumers are able to say thank you with merci Finest Assortment, Europe's favorite gift-giving chocolate.
1988
A claim conquers the world
Since 1988 "merci, for being you" is that special way to say thank you. At this time merci Finest Assortment already comes in 8 carefully selected varieties.
1964
merci from the bottom of my heart
In 1964, Storck surprised the world with a totally new type of chocolate: a selection of fine chocolate bars, individually wrapped in gold - the ultimate way to say thank you.