What comfort tastes like.

Werther's Original – the traditional caramel candy with a long history
For generations, Werther's Original caramels have stood for a long lasting, full flavor taste and made with only the best ingredients including real butter and fresh cream. Werther's Original has a wide range of varieties of caramels from Hard to Soft and also Caramel popcorn, sugar free Caramels.
News from Werther's Original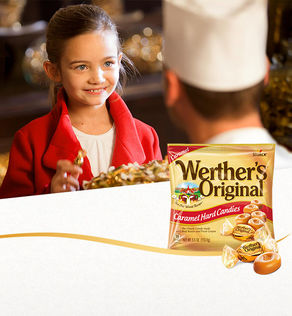 Almost over 100 years ago, in the small European village of Werther, Gustav Nebel created a special recipe for making a classic cream candy. It was handmade with care and pure ingredients, such as real butter and fresh cream. A recipe that has been handed
2015
International bestseller among Storck brands
Werther's Original are sold in more than 100 countries today, which makes them one of Storck's most widely distributed brands.
2013
Werther's Original Caramel Popcorn launches in the U.S.
Werther's Original Caramel Popcorn hits shelves as the only popcorn made with the rich and creamy one-of-a-kind Werther's caramel taste.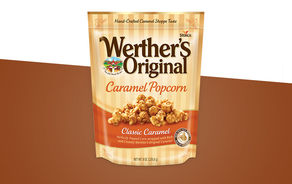 2005
The sugar-free alternative
Sweet and creamy, and incredibly good: the classic cream candy is released in sugar-free.
1985
The popular brand that unites generations
The Werther's Echte brand, later marketed as Werther's Original, becomes increasingly successful. It conquers the hearts of consumers like no other – thanks to a successful cross-generational advertising campaign starring a grandfather and his grandson.
1909
The invention
It happened in the little town or Werther, Germany in 1909. That is where confectioner Gustav Nebel created the now iconic Butter Candy recipe. He took fresh cream, real butter, refined white sugar, brown rock sugar, a pinch of salt and plenty of time to create the now globally famous Butter Candy.

Much has changed since then – and some things have stayed exactly the same as they've always been.